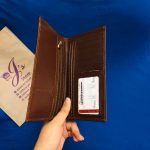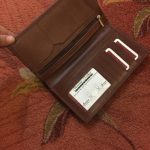 Name & Picture Engraved Gents Long Wallet & Keychain
₨2,500
Leather Long Wallet and Keychain gift-set made from Cow Leather. Get it customized for your loved one!
Description
Wallets are one of the most essential possession of men. There is hardly any gentleman who does not carry a wallet with him. However, we at J's Store felt that the regular shaped wallets are pretty common. It is something we find everywhere. Therefore our masterminds have introduced a Gents Long Wallet. This uniquely designed long wallet for men comes in a combination with a leather keychain.
To make it even more unique, we decided to add customization on both the products of this combo. The Men's Long Wallet and The Keychain, we engrave both the products with name and picture of the future possessor. So it is a Name And Picture Engraved Gents Long Wallet & Keychain Gift Set. Believe it or not but this Gift Set for Him is definitely the best gift your man will receive.
What Is The Catch?
The Long Wallet from our Name & Picture Engraved Gents Long Wallet & Keychain is not just designed beautifully on the outside. But our experts manufactured it smartly from the inside too. This Long Wallet from our Wallet Gift Sets has numerous pockets inside. Separate section for cards, a zipper to keep the important stuff or cash, another long spacious partition parallel to it. Also, some more mini pockets for your ease. We have attached the metallic ring on the keychain with a strong grip to make it durable. We package this Customized Gift Set For Him in the best quality presentable box. Therefore no hassle of extra gift wrapping for it because J's Store has taken care of it.
Order this unique Gift Box For Him from our website now. The orders can be placed through the website or our Facebook, and Instagram pages. Just send us your desired name and picture and we will take care of the rest. Order online in Pakistan.