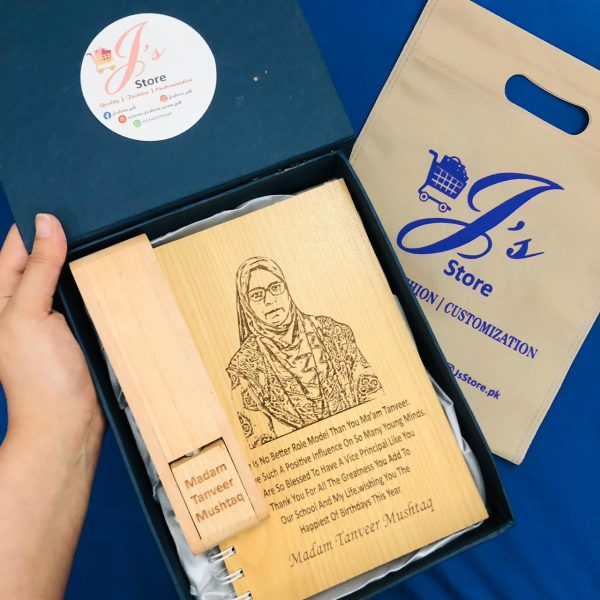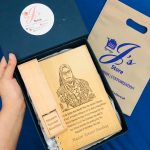 Customized Wooden Notebook Set
₨3,000
You will never go out of ideas with our Wooden gift-set of personalized Wooden Notebook, a customized Wooden Pen with its rotatable Wooden Holder/Case. It can be a wonderful gift for someone who loves taking notes. It will be a meaningful gift when the cover of the Notebook is engraved with pictures, quotes, and names, while Pen with its rotatable Wooden Holder/Case is engraved with the name.
Categories: Birthday Gifts, Cooperate Gifts, Customized Gifts, Friendship Day Gifts, Gifts For Best Friend, Gifts For Brother, Gifts For Colleague, Gifts For Daughter, Gifts For Her, Gifts For Him, Gifts For Husband, Gifts For Sister, Gifts For Son, Gifts For Students, Gifts For Teachers, Graduation Gifts, Sale
Description
Customized Wooden Notebook Set is the perfect gift to pick your Best Friend's next birthday. Moreover, this set includes a customized wooden notebook and a customized pen with its rotatable wooden holder/case as well. Hence, any picture, logo, name, or message can be engraved on it. It is an A5-size notebook. The customized pen which comes with it makes it the best gift combo. If your favorite teacher is leaving your school and you want to gift her something which they will always keep as a keepsake. This is it! You and your friends can fill up the notebook with sweet messages for the teacher. Moreover, gifts that involve any customization, hold a very unique value.
Why 
Customized Wooden Notebook Set
 makes the perfect gift?
It makes the perfect gift for that special someone who loves to write. So, whenever they will open this Customized Wooden Notebook Set to write something special, they will remember you. And if that special one struggles with keeping their keys organized, then this it! So, whenever they will open their cupboard or turn on the engine of their car. It will remind them of you because of that very special keychain. Still haven't sorted out your bestie's birthday gift? Don't worry. We have got you covered. Take all your favorite pictures out and get them engraved on the notebook. A special message does wonders as a gift, getting it on a keychain makes it even better. The pure wooden hardcover makes it unique.
All in all, it is the perfect gift for someone who writes and believes in thoughtful gifts. It also fascinates a person who has a unique sense of aesthetics, which pleases an old-school person. A person who still believes in handwriting good memories. Check our Customized Engraved Wooden Frame for more variations in wooden gifts. Still unsure about the quality and need more quality? Click here to see the video post on our Instagram or Facebook.