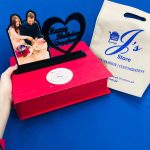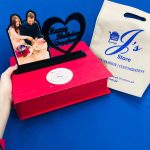 Acrylic Colored Photo Statuettes
₨2,200
A perfect after honeymoon gift to preserve all the love between love birds!
Don't know what to gift your wife on your Anniversary? We've got you sorted! Take out your best photo from your wedding shoot and we'll make it into this gorgeous customized acrylic photo stand with your names and the sweetest message to express your love for her!
Description
Acrylic Colored Photo Statuettes
Acrylic Colored Photo Statuettes make the perfect after honeymoon gift to preserve all your love. So, take out the best picture from your wedding album and get the cut out of it. Additionally, you can also add any special message to it to make it even more special. On top of that, it will be the perfect accessory to decorate a newly-wed room. Hence, it will be your partner's favorite gift from you. Additionally, in the initial days after marriage, such gifts play an integral part in one's relationship. When your partner will come home after a long day from work, it helps in uplifting his mood by having a look at this special gift from you.
Gift Ideas for Acrylic Colored Photo Statuettes
You can also gift Acrylic Colored Photo Statuettes to your best friend on their birthdays. Birthdays are and always will be the most special occasion that we look up to celebrate. And if it's your best friend's birthday then the occasion becomes even more special. So, look inside your and your bestie's photo dump and take out the best picture from there. Then, come to us and we will turn it into the most special cut-out photo statuette for you. You can also add any special message at the bottom of the statuette to share your feelings for your best friend. It will surely make a gift that your best friend will cherish for life and whenever he or she will look at it. It will remind your best friend of the special bond that you both share.
We use various combinations of Fonts and Pictures on our Acrylic Photo Sculpture to personalize your Photo Statuettes for your soulmate. It's a colored Statuette that can be cut into your names and you can get any message, date on the upper base of it. See the detailed video post of the product on our Instagram. Visit the Customized Gifts section for more unique gift ideas for your loved ones.
Material: Acrylic
Base Color: Black
Size: 6 x 12 Inches
The photo will be colored